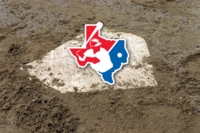 Bryan-College Station (August 13, 2016) - The Bombers Road to Four was delayed as rain poured down on Nutrabolt Stadium during the second inning of the Bombers-Cane Cutters Championship matchup.
The game will resume tomorrow at 3:05 at Mumford High School. Brazos Valley will be at the plate with one out and Tim Lichty at first base. Tristan Metten will be at the plate with a 0-0 score.
The Bombers staff made the best possible effort to keep the crowd entertained and did a great job of tarping the field in a timely manner but the rain proved to be too much.
The Championship game will be FREE for everyone to attend in Mumford, Texas.