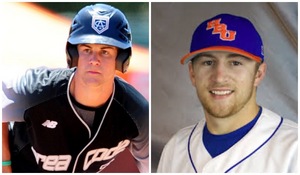 Houston Schools Add Two Players to Strykers' Squad
Strykers Strengthen Roster With Local Talent
The Woodlands, TX (April 19, 2016) - The Woodlands Strykers are proud to welcome two players from the Houston area - Zach Carter (Houston Baptist) and Cody Staab (Rice University) to the team for the 2016 season. Both Carter and Staab will not need to drive far up Interstate 45 to arrive at their off-season home for the 2016 Strykers season.
Zach Carter, a right-handed pitcher from Houston Baptist, is listed to have one of the strongest, if not the strongest, arm on the Strykers staff with a fastball clocking in at 94 mph. After being redshirted his freshman year due to injury, Carter has found himself as one of the focal points of the Huskies' pitching staff, recording the second most appearances on the team (11) with 4 starts, a win, and a 2.45 ERA.
Cody Staab, a freshman outfielder from Rice University, has been an integral part of the Owls success during their 2016 campaign. Staab has appeared in 16 games this season and still maintains a perfect fielding percentage as an Owl outfielder. Staab is a highly touted young player and following his graduation from College Station High School he was selected in the 38th round of the 2015 Major League Draft by the Chicago White Sox.
Catch these fantastic young players and the rest of the Strykers' talented roster as they take the field for the opening game of their 2016 season on Tuesday, May 31st against the Brazos Valley Bombers.
Join the Strykers for affordable family fun baseball this summer; The 2016 season opens May 31st and you can reserve your tickets by calling (702) 205-5709 or visiting www.woodlandsstrykers.com; Follow the Strykers online @wstrykers and on Facebook.