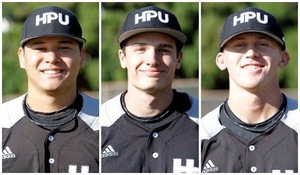 Strykers Land Three Hawai'i Pacific University Sharks for 2016 Season
Strykers Add Three Sharks to Strykers 2016 Roster
The Woodlands, TX (April 14, 2016) - The Woodlands Strykers are elated to announce the addition of 3 Sharks from Hawai'i Pacific University. Sophomores Zach Smith and Mitchell Bumann as well as Junior William Leskovec aim to lead the Strykers into the postseason for the first time in franchise history.
Zach Smith, a redshirt sophomore pitcher, has seen action in four games this season. On Monday, April 11th, Smith recorded a win versus the University of Hawai'i Hilo Vulcans, allowing only one hit during the outing. Prior to joining the Sharks, Smith was an All-Conference Honorable mention while playing pitcher and shortstop at North Olmsted High School. Smith looks to see his workload increase in upcoming seasons with the Sharks as well as with the Strykers pitching staff this summer.
Mitchell Bumann, a redshirt sophomore out of Corona, CA, plays both shortstop and second base for the Sharks. In 2015 Bumann played in eighteen games, starting seven. During the season Bumann notched three RBIs while adding three runs on four hits. This season, Bumann has appeared in nineteen games, starting eleven, while chipping in six hits, three RBIs and scoring five runs. Bumann aims to improve upon his craft as a member of the Strykers.
William Leskovec, a junior catcher from Kapolei, HI, has appeared in every game this season for the Sharks. After being redshirted his freshman year in 2013, Leskovec saw an increase in action in 2014 as he appeared in ten games, starting three. During the same season Leskovec had fourteen at-bats and managed to hit at a .286 clip with four hits, an RBI and a run scored. During the 2015 and 2016 campaign, Leskovec saw a steady increase in contributions for the Sharks. Leskovec now bats an impressive .300 in seventy at-bats driving in fifteen runs and scoring nine of his own. The Strykers are sure to utilize Leskovec's firepower in the upcoming season.
Catch all three of these fantastic young players and the rest of the Strykers' talented roster as they take the field for the opening game of their 2016 season on Tuesday, May 31st against the Brazos Valley Bombers.
Join the Strykers for affordable family fun baseball this summer; The 2016 season opens May 31st and you can reserve your tickets by calling (702) 205-5709 or visiting www.woodlandsstrykers.com; Follow the Strykers online @wstrykers and on Facebook.