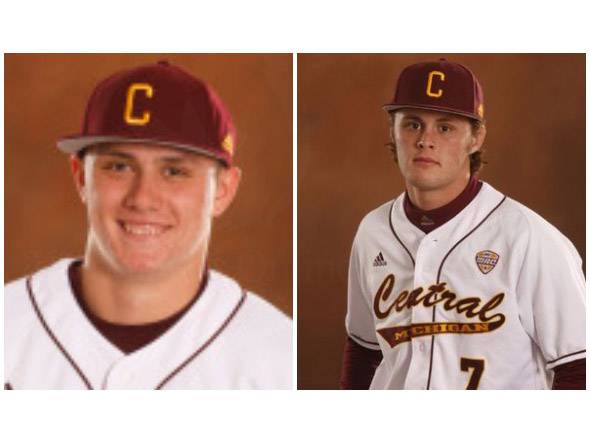 THE WOODLANDS, Texas - The Woodlands Strykers are proud to announce the addition of two Central Michigan University pitchers to the team for the 2016 season. Braxton Markle and Cal Djuraskovic, both sophomores, look to bolster the Strykers pitching staff and help lead the team to its first playoff appearance.
Sophomore Braxton Markle, a 6-foot-1 left-handed pitcher will return to his hometown of The Woodlands, Texas, to provide an excellent arm to the Woodlands Strykers pitching staff this summer. Last year, Markle made 12 appearances, all in relief, totaling 11 innings pitched while compiling a 1-0 record with a 4.09 ERA and recording two saves. "We are excited to have Braxton be a part of our 2016 roster," said Head Coach James Dillard. "Braxton adds a lot to our pitching staff from the left side."
Cal Djuraskovic, also a left-handed pitcher, transferred to Central Michigan from Tiffin University and is looking to have a big impact for the Strykers this year. "Cal is another left handed pitcher that will bring needed depth to our roster," said Coach James Dillard. "Cal is the type of pitcher that can go out and dominate a game for 6 or 7 innings and will give us a chance to win a ball game."
Catch both of these fantastic young players and the rest of the Strykers' talented roster as they take the field for the opening game of their 2016 season on Tuesday, May 31st against the Brazos Valley Bombers.
Join the Strykers for affordable family fun baseball this summer; The 2016 season opens May 31st and you can reserve your tickets by calling (702) 205-5709 or visiting