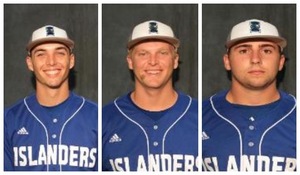 Strykers Sign Three Islanders to 2016 Roster
Holland Joined By Two Texas A&M Corpus Christi Teammates on Strykers' Roster
The Woodlands, TX (March 8, 2016) - The Strykers are excited to announce the return of a veteran for the Strykers, and two other experienced players from Texas A&M-Corpus Christi Islanders. Three-time Stryker Nolan Holland, along with the addition of Chad Romere and Harrison Hill are expected to have a large impact on the Strykers 2016 TCL Season.
Redshirt-Junior Nolan Holland, a right-handed pitcher (RHP) from Spring, Texas, is expected to bring his experience and talents once again to the Strykers this year. Holland, who will be entering his third season with the Strykers this summer, appeared in 22 games last year (second-most on the team) and went 3-1 on the season with a 2.23 ERA and 33 strikeouts. ""Nolan is our veteran on the team. This will be Nolan's third summer for the Strykers and I really wanted Nolan on this roster to help our incoming pitchers, with what to expect as far as the grind of the summer," said James Dillard, Strykers Head Coach. "We love what Nolan takes to the mound and to have that plus his experience are invaluable tools, Nolan will fill a big role for us."
Redshirt-Sophomore Chad Romere, also a right-handed pitcher (RHP), comes to us from Sugar Land, Texas. Prior to transferring to Texas A&M-Corpus Christi, Romere attended Trinity University. "Chad is a right-handed pitcher that will bring depth to our roster," said Head Coach James Dillard. "Chad can eat up innings and his ability to throw strikes and stay out of the middle of zone are great tools to have. We will definitely be taking advantage of that, and we hope Chad really develops and grows as a pitcher this summer." Holland and Romere are expected to be key contributors to the Strykers' pitching staff in 2016.
Freshman Harrison Hill, will add much needed depth in both the outfield and infield this summer for the Strykers. Hill played four years at Clear Creek High School and hit .419 with a .698 slugging percentage. He also had 12 stolen bases and 42 RBIs as a senior. "Harrison being able to play the outfield and 1st base will hopefully keep him in the line-up more and him grow as a baseball player," said Head Coach James Dillard. "His experience playing both positions is definitely a plus for him as well as the Strykers."
The Strykers are set to take the field on May 31st to begin their 2016 TCL Season at home against the Brazos Valley Bombers.
Join the Strykers for affordable family fun baseball this summer; The 2016 season opens May 31st and you can reserve your tickets by calling (702) 205-5709 or visiting www.woodlandsstrykers.com; Follow the Strykers online @wstrykers and on Facebook.