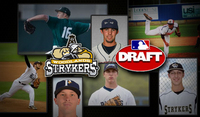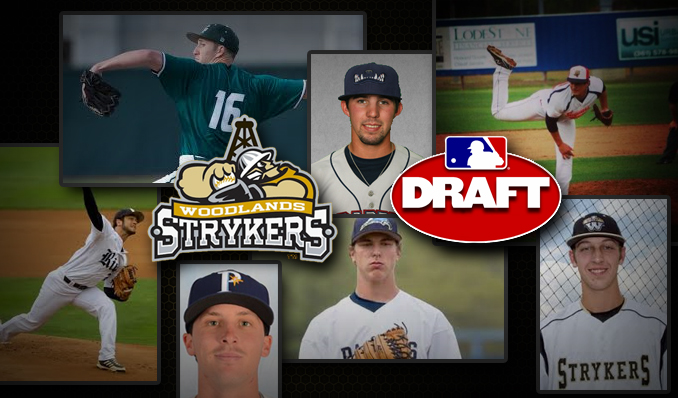 The Woodlands Strykers are proud to recognize nine current and former players who have been drafted into the MLB in both 2014 & 2015; these players display immense talent and prospect for the world of baseball, and we would like to recognize them on behalf of The Woodlands community and all of Strykers Nation.
The Tampa Bay Rays drafted former Stryker Carter Burgess, a junior from Sam Houston State. Burgess was pick number 847 in the 28th round for the Rays and plays 3rd base. He shows great hitting potential as he makes great contact with the ball; prospectors feel he will be an asset on the defensive side as a utility player in the field. Burgess is currently playing for the Bowling Green Hot Rods in Central Kentucky. This year Burgess has had 11 hits in 26 at bats along with one homerun and 4 RBI's and .306 batting average.
The Boston Red Sox drafted Jake Cosart as pick number 103 in the third round-an impressive start to his professional career. Cosart played for Seminole State (FL) as a right-handed pitcher, though he began his college career as an outfielder at Duke. Baseball runs in the Cosart family, as brother Jarred Cosart plays for the Astros-also a right-handed pitcher. Jake Cosart throws an excellent fastball reaching 98 miles/hour and a tricky curveball. Prospectors debate regarding his promising potential as a starter versus a relief pitcher; either way, he appears to be an excellent asset to the Rays. Cosart is currently playing for the Lowell Spinners of the New York – Pennsylvania League in Lowell, Maine. He has posted a 5.45 ERA in 33 innings pitched and is currently 2-2 on the season.
The New York Yankees drafted Andre Del Bosque-current Stryker player-as pick number 1142 in the 30th round; a right-handed pitcher from the University of Houston-Victoria, Del Bosque was he first UHV pitcher to be drafted into the MLB. He also recorded 13 saves for UHV baseball in his past year as a closer-breaking another record for the program; he shows great potential on the mound, and it appears his baseball career has only just begun. Del Bosque is currently playing for the single A affiliate of New York Yankess, the Staten Island Yankees of the New York – Pennsylvania League. So far this season Del Bosque has posted a 2.81 ERA in 16 innings pitched with 15 strikeouts and a 1-1 record.
The New York Mets drafted former Stryker Alex Palsha as pick number 805 in the 27th round. Palsha is right-handed pitcher and senior out of Sacramento State (CA). Alex is another draft pick out of a baseball family, as his brother, Ryan, was drafted to the Orioles in 2009 where he pitched for four years. Alex Palsha led his Sacramento team to D-1 regional status, and was described as one of the most impressive relievers in school history. Palsha is currently playing for the single A affiliate of New York Mets, the Savannah Sand Gnats. Palsha up to this point has comprised a 1.86 ERA in 9.2 innings pitched along with three saves and 13 strikeouts.
The Cleveland Indians drafted former Stryker Drake Roberts as pick number 878 in the 29th round; a second baseman from St. Mary's University (TX), Roberts batted .289 his Junior year with a .935 fielding percentage. He also played college ball at Oklahoma University and Navarro College (where he led the team in home runs, runs scored, and stolen bases). He shows great potential at the plate and defensively in the field for the Cleveland Indians. Roberts who is currently playing for the Mahoning Valley Scrappers in the New York – Pennsylvania League has posted .111 batting average with four hits in 36 AB.
The Washington Nationals drafted former Strykers pitcher and Rice University star, Chase McDowell in round 26 pick 784. Chase is currently playing single A for the Auburn Doubledays in the New-York Penn League. McDowell who is currently playing for the Single A affiliate of the Washington Nationals, the Auburn Doubledays has yet to see action this season.
The San Francisco Giants signed undrafted Strykers pitcher Nolan Riggs from Sam Houston State University. Nolan was signed in 2014 and is currently playing single A ball for the Salem Keizer Volcanoes in the Northwest League. So far this season Riggs has posted a 4.76 ERA in 25.2 innings pitched along with 30 strikeouts and 2-3 record.
Former Strykers pitcher and Sam Houston State alum Andrew Godail was drafted in 2015 by the Phillies in round 26. Andrew is playing single A in the New York Penn League for the Williamsport Crosscutters. This season Godail has posted a 2.08 ERA along with 14 strike outs in 13 innings pitched.
University of West Alabama and former Strykers right-handed pitcher Gandy Stubblefield was drafted by the Philadelphia Phillies in 28th round of the Major League Baseball's First-Year Player Draft on Wednesday. The senior from Lufkin, Texas posted a 7-3 record with a 1.82 earned run average as a junior for UWA this year. He pitched 84 innings over 14 starts, allowing 62 hits, striking out 71 and walking 29. Opponents batted just .203 against Stubblefield and he allowed just two home runs all season. An All-Gulf South Conference and All-South Region performer in his first season with UWA after transferring from Texas A&M, Stubblefield allowed just seven earned runs in his last nine starts for the Tigers, going 7-1 over that span.
For more information about the Strykers, please visit their website at http://www.woodlandsstrykers.com or find us on Facebook and Twitter. You can also call 713.253.7464 or 832.228.5375. All games are played at Strykers Stadium on the campus of The Woodlands Christian Academy located on College Park Drive, a couple of miles west of Interstate 45. BUY your SEASON TICKETS, GROUP AND BIRTHDAY PARTY PACKAGES NOW and SAVE. To reserve your 2016 Strykers season, group or birthday packages, please call Jodie Miles at 832.228.5375 or Jake Versaw at 713.253.7464.
Go Strykers!