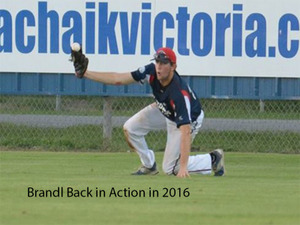 December 18, 2015 – With the 2016 Texas Collegiate League season on the horizon , the Victoria Generals continue to add talent to their roster. This week, the Generals have announced the signing of two players from the area. Bryce Brandl, an El Campo native, will return for his second season along with Michael Brawner, a St. Joseph High School graduate from the class of 2015. The signing of Brandl brings the number of returning players from last season's roster to 10.

"We are extremely happy to have Bryce returning for us as he did many great things for us last Summer on and off the field, "commented Mike Yokum, the General Manager for the Victoria Generals. " Bryce was named "General of the Year" last season and his leadership will be a key to our success as we take the field in 2016."

Bryce Brandl, a redshirt sophomore from St. Mary's University, joins the Generals after appearing in 37 games in 2015. Brandl hit .277 with 38 hits, eight doubles, a triple, a home run, 23 RBI's with 10 walks and six stolen bases. In the Spring of 2015 at St. Mary's, Brandl posted some solid numbers in 43 games, hitting .314 with 38 hits, three doubles, five home runs, 26 RBI's, 21 walks and four stolen bases. Brandl, was a standout from El Campo High School where he was the Team MVP as well as a First Team All-State selection.

Michael Brawner, a freshman left-handed pitcher from the University of Arkansas, signs with the Generals and will battle for a starting job in the Generals rotation in 2016. Brawner was a standout pitcher at St. Joseph High School playing for head coach Michael Shimek. As a senior, Brawner dominated on the mound going 6-3 with an incredible .94 ERA with 138 strikeouts while only allowing 24 hits and 21 walks in 59.1 innings. Brawner's best outing was a complete game one-hit shutout where he struck out 19 batters.

" It is always great to sign local talent as he is familiar with Riverside Stadium and how it plays, "stated Yokum. " Michael will learn a ton from the coaching staff at Arkansas and we look forward to watching him develop over the next few seasons with the Generals."

The Generals will begin their season in late May at Riverside Stadium. The 2016 season will have a new look at Riverside Stadium with an enhanced turf infield that is scheduled to be completed next week. The 2016 schedule should be released soon and will be published on the Victoria Generals website at www.victoriagenerals.com Stop by the Generals Team Shop and get your team merchandise located at 1307 E. Airline Road, Suite H in the Town & Country Shopping Center.