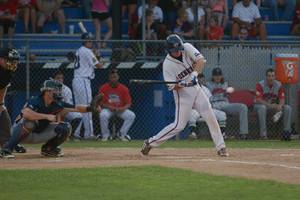 Pedro Barrios Headlines Group of Returners for the 2016 Season
October 27, 2015 – With the 2016 Texas Collegiate League season right around the corner, the Victoria Generals have begun building their roster for the 2016 season. This week, the Generals have announced the signing of six players from their 2015 squad. Pedro Barrios will return for his third season with the Generals along with Christian Caudle, Braxton Smith, Lance Moszkowicz, Donivan Lopez and Hunter Perkins.

"We look forward to the return of these standout players to our roster as they will be able to lead the first year players as they report next Summer," commented Mike Yokum, the GM for the Victoria Generals. "We have only just begun to announce our players and we have quite a few more returners that we are currently working on to bolster our 2016 roster. "

Pedro Barrios , a junior infielder from Tennessee Wesleyan, will return for his third season with the Generals in 2016. Barrios finished up his second season with the Generals hitting .322 (fifth in the league) in 45 games along with 55 hits, four doubles, four triples, 26 RBI's, 17 walks and nine stolen bases. Barrios played mostly at 3rd base and will transition primarily to 2nd base for the upcoming season. After two successful seasons with the Generals, Barrios finds himself near the top of several all-time Victoria Generals records with a final season to go. Barrios was named All-TCL first team third baseman in 2015.

"It will be great to see Pedro return for his final season with the Generals as he has always been a fan favorite in Victoria, "commented Yokum, " Pedro's passion for the game of baseball is second to none and he has a bright future ahead of him at the next level."

Christian Caudle, a sophomore catcher from A&M Kingsville, will join for his second season with the Generals. Caudle joined the team as a replacement in mid-June for Dakota Phillips (broken finger) doing a solid job both offensively and defensively. Caudle finished up the season hitting .319 in 27 games with 30 hits, two doubles, 11 RBI's and eight walks.

Braxton Smith, a sophomore right-handed pitcher from LSU-Eunice, will again be a starting pitcher for the Generals as he takes the field for his second season. Smith joined the Generals at mid-season replacing Nolan Trabanino in the starting rotation. Smith made five starts going 3-1 with a 3.00 ERA in 33 innings, while allowed 11 earned runs on 23 hits while striking out 15.

Lance Moszkowicz, a junior right-handed pitcher from Incarnate Word, will return for his second season with the team. Moszkowicz joined the team in early June and found early success out of the bullpen for the Generals leading the team in appearances with 18, going 4-3 with 2 saves on the season. In 29.1 innings, Moszkowicz struck out 35, walked only 13, allowing nine earned runs and compiling an ERA of 2.76 on the season.

Donivan Lopez, a redshirt freshman infielder from San Jacinto Junior College, will return for his second season with the club. Lopez appeared in 39 games at short stop where he hit .313 with 41 hits, eight doubles, 17 RBI's, nine walks and 12 stolen bases. Lopez finished up the season as the All-TCL first team short stop for the TCL in 2015.

Our final returner, Hunter Perkins, will join the club for his first season with the Generals. Perkins was signed to play for the Generals in 2015 but was unable to play due to injury. Perkins, a junior right-handed pitcher from A&M Kingsville, will hope to find his way into the starting rotation in 2016 at Riverside Stadium. Perkins is familiar with Riverside Stadium from his days as a starting right-hander from Victoria East High School. Perkins had a fine season at Alvin in 2015. Perkins only threw 5.2 innings in 2015 but made a name for himself as the designated hitter due to an arm injury. Perkins appeared in 27 games , with 27 hits, seven doubles, a triple, three home runs, 15 RBI's and 11 walks. He recorded a .370 batting average (second on the team) and a .616 slugging percentage (team leader) .

"We had a great season last year and I can only imagine the year we have ahead of us with all the returning players, "commented Michael Oros, returning Head Coach for the Generals. "Expectations will be much higher for these guys as they help lead the Generals in their quest for another Championship. It has been too long and we are ready to bring the title back to Victoria."

The Generals will begin their season in late May at Riverside Stadium. The 2016 season will have a new look at Riverside Stadium with an enhanced turf infield that will be installed on the field. The 2016 schedule should be released in late November and will be published on the Victoria Generals website at www.victoriagenerals.com. Stop by the Generals Team Shop and get your team merchandise located at 1307 East Airline Road, Suite H in the Town & Country Shopping Center.