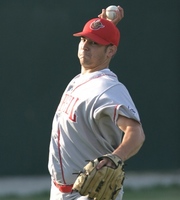 Rice dominated the 2007 Conference-USA awards as 9 players were named to the conference teams. Four players with ties to the Texas Collegiate League were awarded to the conference squads including C-USA Pitcher of the Year Ryne Tacker (Coppell Copperheads '04-'06) who played in the TCL for three seasons.
Other TCL players awarded were First-Team INF Brian Friday (Duncanville Deputies '06) from Rice, Second-Team UTL Aaron Luna (2006 TCL Freshman of the Year-Euless LoneStars) from Rice and All-Freshman Team OF Zak Presley (McKinney Marshals '07) from Houston.


Voting was done by a panel consisting of each head coach, each team's sports information director and a media representative from each city.

Click here to see a full list of the C-USA awards.