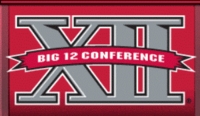 The Texas Collegiate League was represented well as 10 players with ties to the TCL were named to the All-Big 12 first and second team, nine of them being from the state of Texas .

Texas Longhorns pitcher Adrian Alaniz was named the Big 12 Pitcher of the Year.

The All-Big 12 first team consisted of Texas' Preston Clark (Coppell Copperheads '06-'07) and RHP Alaniz (Coppell Copperheads '06-'07), Texas A&M's INF Blake Stouffer (Mineral Wells '05), DH Luke Anders (Colleyville LoneStars '07) and RHP Kyle Nicholson (Weatherford Wranglers '05) and Kansas State RHP Daniel Edwards (Denton Outlaws '05).

The All-Big 12 second team included Texas' RHP James Russell (Coppell Copperheads '05-'06) and 2006 TCL Picher of the Year Randy Boone (Coppell Copperheads '06), Texas A&M 2B Parker Dalton (Mineral Wells Steam '05-'06) and Texas Tech OF Roger Kieschnick (Coppell Copperheads '07).


The All-Big 12 honors are selected by the league's head coaches. No. 5 Texas placed a conference-leading seven players on the all-conference squads, while No. 18 Oklahoma State placed six -- UT has five on the first team and two on the second team while Oklahoma State has three on the first and three on the second.

Click here for the full list of the All-Big 12 team.
|
Back to index...