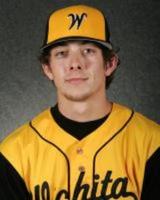 Damon Sublett (Coppell Copperheads '05) was named to the All-Valley conference second team for his performance over the 2007 spring season.

Sublett led the Missouri Valley Conference regular-season champion Wichita State Shockers with a team-high .358 average and added five home runs, 14 stolen bases, 11 doubles and 41 RBI. In 2006, Sublett was named the All-Valley Player of the Year hitting .394 with 45 runs, 65 hits, 10 home runs, 45 RBI and 12 stolen bases.

In an early MLB draft edition of Baseball America, they had Sublett as the 48th best prospect in college baseball for the 2007 MLB draft.

The 6'1", 190lbs junior played with the Coppell Copperheads during the 2005 summer and hit .302 with two home runs and 22 RBI.