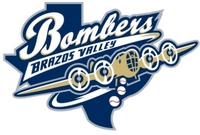 The Brazos Valley Bombers announced that the team has signed sophomore pitcher Ryan Miller from Blinn College, as well as pitcher John Touchton and catcher Chris Wallace, both freshmen at the University of Houston.
Miller will join the Bombers after a standout season with the Buccaneers, one that has seen Blinn join perennial powerhouse San Jacinto atop the Region XIV South standings. Blinn's staff ERA is the best in the conference at 3.11, due in no small part to Miller. The lefthander is unbeaten this season at 8-0 with a miniscule 2.11 ERA that ranks fourth in the conference. In 85.1 innings pitched, Miller has surrendered just 60 hits and struck out 105 batters, an average of well over one per inning. In fact, his 105 punchouts is tied for tops in the conference and fourth in the NJCAA. Miller has already earned a roster spot with the eighth-ranked University of Arkansas next year.
It should come as no surprise that Miller has had such success this year. Heralded as a freshman last season, Miller went 6-3 with a 3.01 ERA and 83 strikeouts in 2006. His ERA was tops among the starting rotation and his 83 strikeouts – in just 68.2 innings – was the best on the team. His all-conference performance led head coach Brian Rope to tap Miller as the ace of this year's staff. He was also noticed by Major League scouts; the Cleveland Indians selected Miller in the 36th round of last June's draft, and team officials continue to keep a close eye on him.
Touchton will join the Bombers following a season in which his numbers belie his improvement. The strapping righthander is 4-5 this season with a 6.99 ERA for the Cougars. But after struggling early as he became acclimated to the college game, Touchton has become Houston's regular Sunday starter in Conference USA play. The coaching staff has shown more confidence in him as the Cougars fight for postseason position, with Touchton tying for the team lead in conference starts. Demonstrating his rapidly increasing maturity, Touchton's best two performances came in conference play on the road; he pitched six innings of shutout ball at Central Florida on March 25, and gave up three runs in more than six innings at 23rd-ranked Tulane on April 22.
Touchton pitched his way onto the Houston staff with an outstanding high school career at Kingwood High School. Though he was an all-district pitcher as a senior, it was his junior year that will stand out in his memory. Kingwood won the Texas Class 5A state championship, and as the team's closer Touchton finished the state title, regional final, and regional semifinal games. Kingwood finished the season ranked eleventh in the country by Baseball America. Following his senior season, Touchton was drafted in the 35th round by the Cincinnati Reds.
Wallace is also a Houston freshman who is getting more experience than expected in his first year on campus. The Cypress native was expected to redshirt this season and get acclimated to the college game behind the plate. But when backup catcher Austin Goolsby broke his arm in mid-May, Wallace was pressed into action as the new backup. He has managed a double in twelve at-bats and scored a pair of runs, but more importantly he has showed great promise in his unexpected playing time.