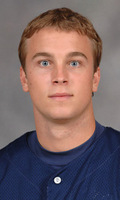 Jess Buenger (Graham Roughnecks 2005 & 2006/Brazos Valley Bombers 2007) of Rice has been named Conference USA Baseball Hitter of the Week for the period ending April 15. The sophomore second baseman/designated hitter Buenger had one of the best weeks of any Owl all year, leading the team with a composite .556 batting average as the team went 3-1.

Last week Buenger went 10-for-18 with a home run, four doubles, seven runs scored and four RBI. Buenger had a .944 slugging percentage and he was walked once and hit by a pitch for a .600 on-base percentage. On defense at second base, he had 14 put outs and 10 assists while turning or starting three of the Owls four double plays last week. Buenger was selected to the All-Silver Glove Series Team for the annual showdown with cross-town rival Houston.

The Bellville, Texas native played with Texas Collegiate League's Graham Roughnecks (now located in Wichita Falls ) in 2005 and 2006. The two-time TCL All-Star hit .296 with four doubles, a home run and 14 RBI in 2005 and batted .266 with five doubles and nine RBI in 2006. Buenger was the first player in TCL history to hit for the cycle, going 4-for-5 with a grand slam and eight RBI against Mineral Wells on July 22, 2005.

For his third TCL season in 2007, Buenger will don different TCL attire as he heads to Brazos Valley for the Bombers' inaugural season.

About Texas Collegiate League
The Texas Collegiate League is entering its fourth season and continues to gain strength as one of the top summer college baseball programs in . The TCL has nine teams located in Brazos Valley , Coppell, Denton, Duncanville, Colleyville, McKinney, Mineral Wells, Weatherford, and Wichita Falls . The wooden-bat summer league is comprised of over 200 of the nation's top prospects from more than 85 different schools. The nine teams will each play a 48-game regular season schedule, which begins June 5th, with two rounds of playoffs to follow. For more information, please call the Texas Collegiate League office at 817-339-9367.