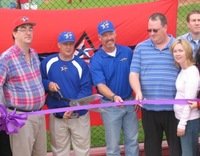 The LoneStars of the Texas Collegiate League celebrated their new home in Colleyville, Texas at a press conference at Colleyville Heritage High School. Formerly located in Euless , the LoneStars relocate back to Colleyville where they were originally established in 2004.

The LoneStars were welcomed home by Colleyville Mayor David Kelly and members of the Colleyville Chamber of Commerce with a plaque presentation and a ribbon cutting ceremony.

"The city of Colleyville welcomes the LoneStars back home to Colleyville and is excited about their return," Kelly said.

LoneStars' owner/general manager Stacey Hollinger and head coach Rusty Greer are eager for the return because of Colleyville High School 's location and the dynamic community involvement.

"We wanted to move back to Colleyville because we believe it is a better location and gets us back into a neighborhood setting," Hollinger said.

With all the renovations to the field and the community being so involved, this city has the whole package."

"I believe the community will react favorably to this team," Greer said. "It is a great place for a family come out and let the kids run around and I am hoping they will come out and support us and I hope we can bring some wins."

The LoneStars will start the 2007 season with a fresh location and new head coach, who happens to be a Texas Rangers legend. Greer will have an opportunity to instruct some of the top college talent in the country this summer during his first ever stint as a head coach. The LoneStars' will be represented by players from Arkansas, Baylor, Cal State Fullerton, Dallas Baptist, Georgia Tech, Kansas State, Oklahoma, Texas A&M, Texas, and Wichita State .

"Coming from professional baseball, there is not a lot of teaching going on," Greer states. "I actually have the opportunity to teach talented kids that have another level that they want to go to which is pro baseball," Greer said.

Greer and the LoneStars kick-off the 2007 season at their new home on June 6th against the Brazos Valley Bombers.