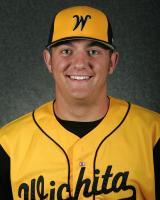 Wichita State baseball student-athlete Tyler Weber has been named one of the Prairie Farms/Missouri Valley Conference Scholar-Athletes-of-the-Week, Commissioner Doug Elgin announced March 28. Weber was honored for their performances during the period of March 19-25.

The junior catcher, who is signed to play with the Colleyville LoneStars of the Texas Collegiate League this summer, enabled the 10th ranked Shockers to post a 5-0 record against Arkansas-Pine Bluff (19-2 on March 20 and 17-0 on March 21) and Indiana State (7-1 on March 23, 12-2 on March 24 and 12-3 on March 25).

Weber, who has a 3.136 cumulative grade-point average in sports administration, went 10-for-12 (.833) with eight runs scored, a double, three homers and seven RBI. In fact, from his final at-bat on March 21 through the Sunday game against Indiana State, he collected 10 hits in a row in official at-bats.

Weber will join the LoneStars coach and Texas Ranger legend Rusty Greer for the 2007 TCL season.