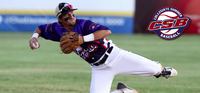 Bryan-College Station, TX (July 22, 2016) – The updated national rankings from CollegiateSummerBaseball.com were released today and the Brazos Valley Bombers have moved into the top five for the first time all season.
The Bombers checked in this week ranked as the 5th best team in the country in the midst of a seventeen game win streak, the longest in Texas Collegiate League history. The Bombers, the 2013 National Champions and three-time defending TCL champ, are the only representative of the TCL in the top 35.
TCL play continues tonight with the Woodlands Strykers taking on the Texas Marshals and the Victoria Generals traveling to face the Acadiana Cane Cutters. The Bombers return to play on Sunday July 24th to face the Texas Marshals in Plano, TX.