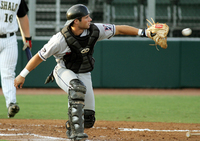 Mineral Wells 7
Highland Park 6
The Steam ended an eight-game losing streak, winning at home versus the Blue Sox. Jordan Craft allowed three runs in six innings for the victory while Brett Lester blanked Highland Park the last two innings for a save. Jay Brossman had a pair of hits and four rbi while Todd Sebek went deep. Matt Berezay led the Blue Sox with three hits and two rbi. Eric Evans (5 ip/5 r) was the starter and loser.
Graham 12
Euless 7
The Roughnecks won for the fifth time in six games in a day contest at Steer Stadium. Graham, paced by a seven-run fourth inning, received home runs from Keanon Simon and Collin DeLome. Reese Baker prevented the LoneStars from closing the gap with three scoreless innings in relief. Drew Jeffcoat was 3-4 with two rbi for Euless.
Weatherford 16
McKinney 8
A six-run first and a four-run third gave the Wranglers a 10-3 lead, and the club went on to produce for a season high in runs. Five Marshals errors contributed to the uprising. McKinney starter and loser William DeLage issued nine runs, only two of them earned in 2.1 innings.Clint Arnold went 4-5 with two rbi, Ryan Baker was 3-4, and Spencer Jackson homered for the Wranglers. Shawn Ferguson issued six runs in six innings but earned the victory. Louie Alamia drove in four runs for McKinney, including a three-run triple as part of a five-run Marshals sixth.
Coppell 6
Denton 3
The Copperheads earned the only Speaker Division victory of the night behind Jacob Ramos, who allowed three runs in six innings to improve to 3-1. Tyler Hill worked the final two frames for a save. Damon Sublett had a homer and three rbi and Justin Baum was 3-4 for Coppell. The Outlaws have lost six straight to fall into a second place tie with Graham in the Hornsby Division.