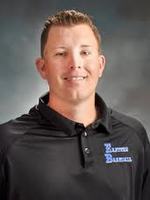 The Brazos Valley Bombers are thrilled to announce Curt Dixon as the team's head coach for the 2012 season.

Dixon is taking over the position for the Bombers after having Brent Alumbaugh as head coach for the past four seasons. Alumbaugh has made a lasting impact within the organization by leading the Bombers to their first championship playoff in 2011 and a record of 100-103-1.

Dixon is a native of McAlester, Oklahoman and is currently serving his first year as the pitching coach for Eastern Oklahoma State College. Prior to Eastern, Dixon was at Clarke University in Dubuque, Iowa. During his only season as the pitching coach/recruiting coordinator, Dixon set multiple school records, including ERA, opponent batting average and conference wins.

Dixon graduated from the University of the Ozarks in Clarksville, Arkansas, and later returned to coach in 2009 and 2010. He was the pitching coach, head varsity coach, and handled recruiting and fund-raising. During these two years, the program was described to be at one of its' highest potentials.

Dixon is currently living with his wife, Whitney, in Wilburton while working on his master's degree from the United States Sports Academy in sports administration.

The first game of the 2012 season is June 6th. The Bombers are trying to make history by having the first opening day sell out. The Opening Day package includes a game ticket, hot dog, a beverage of your choice, and a Bombers cap for only $10! For more ticket information call 979-985-5128 or the Bombers click here, bvbombers.com. Join the Bombers and Coach Dixon at Brazos Valley Bank on June 6th at 7:05 p.m.