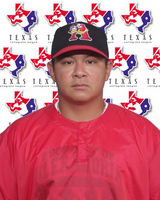 ACES REHIRE HEAD COACH
Freddy Rodriguez to Lead Aces in 2012
Alexandria, LA; February 10, 2012 – The Alexandria Aces of the Texas Collegiate League (TCL), have announced that Freddy Rodriguez, the interim Head Coach for the Alexandria Aces after the mid-season dismissal of the head coach last season has been hired to lead the Aces in the upcoming 2012 season.
Rodriguez, 36, is also the Head Coach for the Texas College, the NAIA baseball program in Tyler, Texas. He is in his six season as the Steers' head coach. During his first five years, Freddy has turned around a program that has consistently finished offensively in the upper-half of the Red River Athletic Conference. This will be Freddy's third year with the Aces and his first full year as the head coach.
"Freddy has been working hard to get players here this summer that will compete for the TCL Championship," said Eric Moran, President & CEO. "I know that he is excited to start the season off as our head coach and will bring a competitive baseball club to Bringhurst Field that will give its all for the Central Louisiana community and the Aces' fans."
"I want to thank Eric and the Aces' ownership group for giving me the opportunity for a fresh start and to lead the 2012 Alexandria Aces," Rodriguez said. "The Aces have a long-standing tradition of winning baseball in the City of Alexandria, and I am honored to be a part of it. My goals are to contend and win a TCL Championship while concentrating on player development. I am looking forward to another great summer of Aces Baseball."
The Aces are selling season tickets for just $100/seat for reserve seats and general admission seats for the 2012 season, as well as its continuing advertising and marketing opportunities. The Aces have also lowered the popular deck table prices to $750/table for the entire season. The Aces and its local ownership group are looking forward to continuing to provide great, family-friendly entertainment to the Central Louisiana community.
For more information on the Aces, call (318) 473-ACES (2237), or visit the team's website at www.myacesbaseball.com. You can also reach Eric Moran via e-mail: [email protected]. Fans can go like the Aces' Facebook account and follow the Aces on Twitter: AlexandriaAces
The Aces' third season in the TCL starts in early June. For more information on the Texas Collegiate League, visit the League's website at www.texascollegiateleague.com