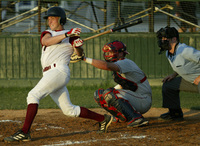 First baseman Andrew Brown of the Denton Outlaws and righthander Austin Creps of the McKinney Marshals have been selected as the 2005 D-Bat Texas Collegiate League Player and Pitcher of the Year, it was announced Thursday.
Derek Matlock, who guided the first-year Denton Outlaws to the Rogers Hornsby Division title, was named as the Coach of the Year in voting by the eight TCL head coaches. The other awards and the all-league team were selected by Texas Collegiate League officials.
Brown, who will enter his sophomore year at the University of Nebraska, batted .311 (41-132) and led the TCL with 13 homers and 39 rbi in 42 regular season games for Denton. His home run total was the highest for any player in the two-year history of the league. The righthanded batter from Carrollton, Texas was the TCL Player of the Month for July, when he hit .389 with 12 homers and 31 rbi in 26 games.
Creps, who will be a junior at Texas A&M University, had a 5-1 record and 1.72 era in 10 games/9 starts for the Marshals this summer. The righthander from Spring, Texas, tied for second in the league in wins, posted the third lowest era among pitchers with at least 30 innings pitched, and ranked fourth in the TCL with 54 strikeouts in 47.2 innings. Creps went 3-0, 1.29 in his final four regular season starts and earned TCL Pitcher of the Month honors for July (3-1, 2.35).
Matlock, an assistant coach at Texas Christian University, led Denton to a 26-22 regular season record, winning the Hornsby Division by six games. The Outlaws then swept the Weatherford Wranglers in two games to advance to this weekend's Texas Collegiate League Championship Series against McKinney.
Righthanded pitcher Aaron Brown of the Coppell Copperheads was the recipient of Freshman Pitcher of the Year honors. Brown, who is entering his sophomore year at the University of Houston, was 3-0, 1.43 with 42 strikeouts in 44 innings in his 8 games/6 starts for the Copperheads.
Andrew Brown, Creps, Matlock, and Aaron Brown will receive their awards at the second annual Texas Collegiate League Legends Dinner on Wednesday, November 9 at the Renaissance Worthington Hotel in Fort Worth.
The 2005 TCL All-League Team includes three players each from Denton and McKinney and two apiece from Graham and Mineral Wells.
2005 TEXAS COLLEGIATE LEAGUE ALL-LEAGUE TEAM
1B—Andrew Brown, Denton (Univ. of Nebraska), .311, 13 hr, 39 rbi
2B—Parker Dalton, Mineral Wells (Texas A&M Univ.), .284, 52 h, 4 hr, 28 rbi
SS—Justin Colbert, Graham (Oklahoma St. Univ.), .301, 43 h, 12 rbi, 17 sb
3B—Brian Spear, Denton (Wichita St. Univ.), .324, 7 hr, 36 rbi
OF—Louie Alamia, McKinney (UT-Pan American), .316, 50 h, 20 rbi
OF—Spencer Jackson, Weatherford (Texas A&M Univ.), .340, 48 h, 5 hr, 18 rbi
OF—Keanon Simon, Graham (Oklahoma St. Univ.), .311, 48 r, 59 h, 5 hr, 27 rbi, 23 sb
C—Josh Banda, Denton (California Baptist Univ.), .408, 51 h, 14 2b, 9 hr, 30 rbi
DH—Ben Burum, Mineral Wells (UT-Arlington), .305, 50 h, 12 hr, 38 rbi
RH Starter—Austin Creps, McKinney (Texas A&M University), 5-1, 1.72, 54 so
LH Starter—Jacob Ramos, Coppell (Lubbock Christian Univ.), 4-2, 1.96, 58 so
Reliever—Bryce Cox, McKinney (Rice Univ.), 2-0, 0.44, 7 sv, 20.2 ip, 20 so
Player of the Year—Andrew Brown, Denton
Pitcher of the Year—Austin Creps, McKinney
Coach of the Year—Derek Matlock, Denton
Freshman Pitcher of the Year—Aaron Brown, Coppell (Univ. of Houston), 3-0, 1.43, 42 so)