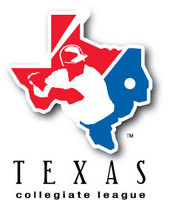 Player of the Week

Jake Luce, McKinney Marshals
Luce led all hitters for the week with a .500 average (8-for-16), adding two doubles and a triple for a .750 slugging percentage. He scored five runs and drove in seven more, accounting for 44% of the Marshals' runs in the five games he played this week. The Jefferson College outfielder will be returning to the Vikings for his sophomore year in the fall.
Pitcher of the Week

Nathan Karns, Coppell Copperheads
Karns captured Pitcher of the Week honors with one spectacular start against the East Texas Pump Jacks on July 24. Karns struck out a TCL season-high 15 batters in seven innings of work, carrying a no-hitter into the seventh inning before allowing an infield single. He gave up just the one hit and walked three, surrendering a pair of unearned runs in Coppell's come-from-behind victory. The junior righthander was a member of the Texas Tech rotation in the spring.