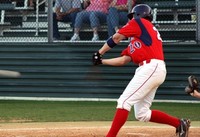 The PlainsCapital Home Run Derby will take place at Lupton Stadium on the campus of TCU at 6pm on July 9th, which precedes the Brookshire's-McCormick TCL All-Star game.

The participants in the Home Run Derby will be Adam Hornung (Weatherford), Kyle Hardman (Colleyville), Brent Harris (Duncanville), Derek Wiley (McKinney), Jason Seefeld (Wichita Falls) and Mark McGonigle ( Brazos Valley ).

The six players chosen to participate in the PlainsCapital Bank Home Run Derby compete in a system where the players with the most home runs advance to the next round. Each player gets nine outs in the first round (six players), six outs in the second (four players) and four outs in the championship (two players). An out is defined as any swing that is not a home run in this case. Should a tie exist between players at the end of any round, the first tiebreaker will be that each player with the same amount of HR will get three extra outs and then the second tie-breaker will be the most home runs by the All-Star break.

For tickets for the All-Star Game or more information, please call the TCL league office at 817-339-9367.