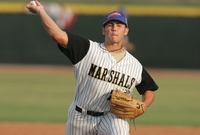 Major League Baseball's 2007 First-Year Player Draft was carried live by ESPN2 on Thursday afternoon, marking the first time that the draft was televised.

TCL single season strikeout king Jess Todd (Coppell Copperheads '06) from Arkansas was the first TCL alum chosen as St. Louis picked him as the 82nd pick in the 2nd round. Rice shortstop Brian Friday (Duncanville Deputies '06) followed Todd as the 98th pick by the Pittsburgh Pirates. The other TCL players snagged in the first day were Mercer pitcher Cory Gearrin (Mineral Wells '05) by the Atlanta Braves with the 138th pick and Texas A&M infielder Blake Stouffer (Mineral Wells '05) by the Cincinniti Reds with the 139th pick, Texas Christian pitcher Jake Arrieta (McKinney Marshals '05) by the Baltimore Orioles with the 159th pick, Texas Christian pitcher Chance Corgan (Euless LoneStars '05) by the San Fransisco Giants with the 164th pick and Lamar outfielder Collin DeLome (Graham Roughnecks '05, McKinney Marshals '06) by the Houston Astros with the 171st pick.

Don't be surprised to hear a substantial amount of Texas Collegiate League players' names called tomorrow as the 45 remaining rounds will be announced. The TCL has had around 88 players drafted in the three year existence comparing to the Northwoods League that had only 45 alumni playing professional baseball after their first four seasons. And with the amount of top rated prospects from the TCL, that number will drastically increase after this year's picks.