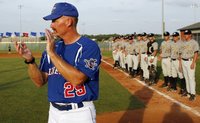 The Colleyville LoneStars and the Brazos Valley Bombers went into extra frames in the debut of LoneStars' coach Rusty Greer and the inaugural game for the Bombers.

A throwing error by Brazos Valley pitcher Ryan Weber allowed Colleyville to turn a sacrifice bunt in to an 11th-inning run as the LoneStars defeated the Bombers, 4-3, in the season opener for both teams.

The game was knotted at 3-3 from the sixth inning until Colleyville put together its winning rally in the bottom of the 11th inning. Catcher Tim Hartland lead off with a single and then scampered to second when the ball was misplayed by leftfielder Will Basom. Brandon Moss pinch ran for Hartland and Kyle Hardman received an intentional walk, bringing Kyle Livingstone to the plate with no outs.

Livingstone dropped a bunt to the first base side of the mound before Weber fielded the ball cleanly but tossed his relay to first into Livingstone's back. Moss beat the subsequent throw to the plate for the winning run.

Weber (0-1), who moved from shortstop to pitcher to record the last out of the 10th inning, took the loss. The win for the LoneStars was recorded by 6-7 righthander Trent DeLazzer (1-0). Both teams benefitted from a strong breeze blowing out to leftfield early, as Weber hit a solo home run for Brazos Valley and Hardman blasted a three-run shot for Colleyville.