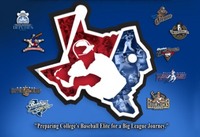 There is no turning back because the season begins today. Milenko Martinovich from the Star-Telegram sat down with Rusty Greer and wrote a preview of the 2007 Texas Collegiate League season. Click here for the story on star-telegram.com.


LoneStars add real standout to bench
By MILENKO MARTINOVICH
Star-Telegram Staff Writer

Former Rangers outfielder Rusty Greer yearned for a coaching job that would not keep him away from his family.

He found the perfect fit as manager of the Colleyville LoneStars in the Texas Collegiate League. The TCL, a wooden-bat baseball league featuring some of the nation's best collegiate players, kicks off its fourth season tonight.

If there was ever a manager who could gain instant credibility with young players, especially in this area, it's Greer. He was one of the most popular and talented players for the Rangers in the mid- to late 1990's, when winning division crowns was expected. His all-out, aggressive style quickly made him a fan favorite. Now, he's trying to pass on what he learned from his nine-year major league career.

Greer thinks the TCL is the perfect avenue to begin his coaching career. Coaching at one of the Rangers' minor league was an option, but that would entail being away from his family for six to seven months. That was a commitment he wasn't willing to make.

"I've traveled long enough," said Greer, 38. "My kids are at the age when they need their daddy home."

Then came a call from LoneStars co-owner and president Stacey Hollinger, who was searching for a manager after Rob Penders took the head coaching position at St. Edward's University. Greer jumped at the chance and added immediate star power to the league.

"Obviously fans know who Rusty Greer is, and he's a draw," Hollinger said. "From a publicity standpoint, that's great. But, more importantly, Rusty really wants to coach. He has so much knowledge of the game, and he wants to instill that knowledge in his players."

Greer, who played for the Springfield Rifles of the Central Illinois Collegiate League during his days at Montevallo, said the biggest hurdle in preparing his players for professional baseball is the grueling length of a pro season. Greer's players will have played about 50 to 65 college games before suiting up for the LoneStars. Even another 46 TCL games doesn't add up to a professional season.

"A lot of these guys have never played every day," Greer said. "Even all the games they played, plus playing six days a week in 100-degree weather pales in comparison to what you're doing [in professional baseball]. Plane flights at 3 a.m., playing the next day.... It's a grind."

Greer said he hopes the TCL will be a steppingstone for him. He says that, if successful in the TCL, he would like to become a head coach at an area college. But first, he wants to help as many of his players enjoy the thrills and successes he experienced in the major leagues.

"Every one of these players' goals is to get to the big leagues, and we want to help them get there," Greer said. "I want them to play the game the right way."

ONLINE: texascollegiateleague.com

TEAM BY TEAM

Brazos Valley Bombers
2006 record: First-year team
Manager: Kevin Moulder
Key players: Jess Buenger, IF, Rice; Ryan Weber, IF, Temple; Ryan Miller, P, Blinn College; Scooter Hicks, P, Missouri
Home field: Brazos Valley Bank Ballpark, Bryan
Tickets: Reserved $9, general admission $7, general admission for child/senior/students, $5. Call 979-779-7529.

Colleyville LoneStars
2006 record: 26-22 (formerly Euless LoneStars; third in Tris Speaker Division)
Manager: Rusty Greer
Key players: Tyler Weber, C, Wichita State; Blake Williams, P, Texas; Brandon Moss, C/1B, Oklahoma; Austin Knight, IF, Dallas Baptist
Home field: Colleyville Heritage HS
Tickets: Reserved $6, general admission $5, children 4 and under free

Coppell Copperheads
2006 record: 31-17 (First in Tris Speaker Division, league semifinalist)
Manager: Heath Autry
Key players: Tyler Hill, IF, Wichita State; Jeff Nutt, C, Arkansas; Sean Jones, OF, Arkansas; Travis Tucker, IF, Texas
Home field: Coppell ISD Sports Complex
Tickets: Adults $5, ages 6-18 $3; children 5 and under, seniors 65 and over and military personnel with ID free

Denton Outlaws
2006 record: 28-20 (First in Rogers Hornsby Division, league finalist)
Manager: Derek Matlock
Key players: Heath Taylor, P, Oklahoma; Kai Kirby, OF, Seward County CC; Alex Posey, P, Texas; Thomas Field, IF, Texas State
Home field: Lake Dallas HS
Tickets: Adults $5, children ages 3-12 $3, children under 3 free. Call 940-382-9396 or e-mail [email protected]

Duncanville Deputies
2006 record: 21-27 (Fourth in Tris Speaker Division)
Manager: Kyle Houser
Key players: Kyle Landis, P, Pittsburgh; Wayne Hrozek, OF, Arkansas; Tyson Fuggett, P, Wichita State; Matt Williams, C, Duke
Home field: Duncanville HS
Tickets: Adult reserved (chair-backed, covered seating), $6, general admission (covered seating) $5, seniors 65 and over and children 12 and under $4. Call 972-296-9700.

McKinney Marshals
2006 record: 30-18 (Second in Tris Speaker Division, league champion)
Manager: Kyle Hope
Key players: Mike Rockett, OF, UT-San Antonio; Joe Oliveira, C, Pacific; Jeff Texada, IF, Alabama; Chase Buyuk, P, Kansas State
Home field: Gabe Nesbitt Field, McKinney
Tickets: Adult reserved $4, senior and student reserved $2, children 5 and under free. Call 972-747-9374.

Mineral Wells Steam
2006 record: 20-28 (tied for third in Rogers Hornsby Division)
Manager: Bernie Martinez
Key players: Josh Vander Hey, C, Texas Wesleyan; Brice Cutspec, IF, Azuna Pacific; Wade Mackey, P, Baylor; Scott Bittle, P, Mississippi
Home field: Mineral Wells HS
Tickets: Adults $5, children 12 and under $2. Call 940-325-8500.

Weatherford Wranglers
2006 record: 20-28 (tied for third in Rogers Hornsby Division)
Manager: Jeff Lightfoot
Key players: Gary Poynter, P, Weatherford College; Mike Monterey, P, Michigan State; Nich Conaway, P, Oklahoma; Dusty Coleman, IF, Wichita State
Home field: Roger Williams Field, Weatherford College
Tickets: Reserved seats $7, children 12 and under $3. Call 817-771-8882.

Wichita Falls Roughnecks
2006 record: 21-27 (formerly Graham Roughnecks; Second in Rogers Hornsby Division, league semifinalist)
Manager: Johnny Cardenas
Key players: Chris Richburg, OF, Texas Tech; David Moore, OF, Lamar; Russell Young, P, Dartmouth; Jarod Freeman, IF, Oklahoma
Home field: Hoskins Field, Wichita Falls
Tickets: General admission $6, children 12 and under $4. Call 940-687-4487.