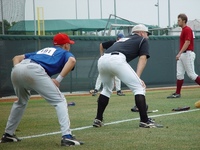 The Texas Collegiate Baseball League will hold a tryout camp on Friday, June 1 at Colleyville Heritage High School at 3:00pm.

The Tryout Camp will be used to fill SHORT-TERM ROSTER SPOTS ONLY for the nine TCL teams in 2007. Teams will need to fill these roster spots until fulltime players participating in the NCAA Division I Baseball Tournament report. These roster spots will be for a minimum of five days and could last for as much as several weeks. All fulltime roster positions in the Texas Collegiate League have been filled for 2007.

To participate in the TCL Tryout Camp, players must have played at least one season of college baseball and have eligibility remaining. It is recommended that participants have been involved in a college baseball program this spring.

The TCL Tryout Camp will be conducted by Texas Collegiate League personnel and coaches including LoneStars head coach Rusty Greer. The TCL will conduct a player draft of its nine teams immediately following the Tryout Camp.

The TCL Tryout Camp will begin with registration at 2:30 p.m. and the workout starting at 3:00 p.m. It is recommended that interested participants register in advance on-line (Click here to register). Participants will be required to sign a waiver form and pay a $25.00 non refundable registration fee on the day of the camp. If you do not pre-register, please bring confirmation of participation in a college or university baseball team for the 2007 season.

Colleyville Heritage High School is located at 5401 Heritage Ave. in Colleyville, Texas.

About Texas Collegiate League
The Texas Collegiate League begins its fourth season on Tuesday, June 5th. The wooden-bat summer league is comprised of over 200 of the nation's top prospects from more than 85 different schools. The nine teams will each play a 48-game regular season schedule in 2007 with two rounds of playoffs to follow. For more information, please call the Texas Collegiate League office at 817-339-9367.