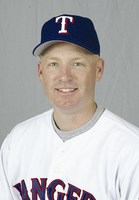 LoneStars' President Stacey Hollinger announced Wednesday the hiring of former Texas Rangers' outfielder Rusty Greer as the team's new head coach.
The Texas Collegiate League is entering its fourth season in Texas and continues to gain strength as one of the top summer college baseball programs in America. The Texas Collegiate League has nine teams located in Bryan-College Station, Coppell, Denton, Duncanville, Euless, McKinney, Mineral Wells, Weatherford, and Wichita Falls.
Greer will have an opportunity to coach some of the top college talent in the country next summer as players from some of the following schools will be represented on his squad: Arkansas, Baylor, Cal State Fullerton, Dallas Baptist, Georgia Tech, Kansas State, Oklahoma, Texas A&M, Texas, and Wichita State.
"The LoneStars are excited and fortunate to have Rusty Greer as our new head coach," Hollinger said. "Rusty brings a new level of excitement to our organization as well as the Texas Collegiate League. Rusty brings so much experience from his professional career and his college career and that is just the right mix for these young players coming in for the summer. He will help them develop into a better player and at the same time help them understand what it takes physically and mentally to play at a higher level. He is really looking forward to this opportunity and is already preparing for his 2007 coaching debut."
Prior to Greer signing with the Texas Rangers in 1990 after being drafted in the 10th round, he attended the University of Montevallo (Ala.) and received his summer ball experience with the Springfield Rifles in the Central Illinois Collegiate League.
The Rangers' crowd favorite literally laid his body on the line with spectacular catches in the field and daring base running during his nine-season baseball career from 1994-2002. He was among American League rookie leaders in '94 with a .314 batting average, 16 doubles, 10 homers, and 46 RBIs in 80 games. From 1995-99 Greer averaged just under 20 homers per season (93 in five years), drove in 100 or more runs three times, had a slugging percentage at or near .500 each season, and was among the Top Three in almost every offensive category for Texas' playoff-contending teams.
He belted a career-high 26 home runs in '97 and batted in 108 runs while playing in 155 games in 1998. His arm accuracy and fielding skills continued to develop throughout the late 1990s and twice he had nine outfield assists. The Ozark, Ala., native also was a key backup first baseman in three of his nine Ranger campaigns.
Greer and his wife, Lauri, have three children and live in Colleyville.
Further information on the Texas Collegiate League and LoneStars is available at www.texascollegiateleague.com and www.tcllonestars.com.
The formal press conference will take place at 1:00 p.m. on Thursday, December 14, 2006 at the Holiday Inn – Bedford (3005 West Airport Freeway, Bedford, TX 76021).
FOR MORE INFORMATION: Please contact Stacey Hollinger (817-291-2306) or Josh Tate (817-437-1766)