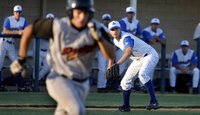 COPPELL COPPERHEADS -- June 7 @ 7:35 pm vs. Euless LoneStars
• The Copperheads are celebrating all the Coppell Baseball Association Champions (Youth Baseball). We will have 6 different teams recognized as their age group winners. Also, 6 first pitches will be thrown.
• The giveaway for the night is hand fans courtesy of Las Colinas Medical Center.
DENTON OUTLAWS -- June 6 @ 7:35 pm vs. Coppell Copperheads
• Team owners Jim Leslie and Todd Van Poppel will honor the Outlaws for winning the 2006 TCL Championship with a special ring ceremony prior to the game.
• Miss Texas Morgan Matlock will also make an appearance and sing the national anthem, and the Outlaws new mascot will finally be unveiled.
• Former Texas Rangers pitcher and Outlaws owner Todd Van Poppel will throw out the ceremonial first pitch to ring in the season.
• The first 250 fans to enter the field will receive complimentary thundersticks to cheer the Outlaws to an Opening Night Win!
• Tickets are just $5 for adults and $3 for kids 12 & under.
• Little league players who wear their uniform to the game will receive admission for just $2! For ticket information, call (940) 382-9396 or visit our website at www.thedentonoutlaws.com.
DUNCANVILLE DEPUTIES -- June 6 @ 7:05 pm vs. Plano Blue Sox
• Todd Ritchie and The Deputy will be flown into Panther Field by Helicopter
• The winner of the mascot contest will be announced and the Deputy's name will be revealed
• Todd Ritchie will be introduced to throw out the first pitch
EULESS LONESTARS -- June 6 @ 7:35 pm vs. Mineral Wells Steam
• Rayfield Wright will throw out the first pitch and promote his book
GRAHAM ROUGHNECKS -- June 7 @ 7:05 pm vs. Mineral Wells Steam
• League Pocket Schedules to all guests
• Little League 9 & 10 year old Astros will take the field with the 'Necks and throw out the first pitches...
• G.O. will perform his newest workout routine and challenge the fans in the stands to workout with him!....Wanna challenge G.O.?
• Jeff Watts Productions will be on hand to shoot features to the TCL Magazine Show and Graham fans
MCKINNEY MARSHALS -- June 6 @ 7:05 pm vs. Weatherford Wranglers
• All fans will receive free popcorn served in McKinney Marshals megaphones
• The first 1000 fans will receive McKinney Marshals 2006 Schedule Magnets, sponsored by McKinney Tourism Services
• The Naval Reserve Color Guard will be presenting the colors for the National Anthem
• All fans will be entertained with post game fireworks
MINERAL WELLS STEAM -- June 9 @ 7:05 pm vs. Duncanville Deputies
• Post-game fireworks
PLANO BLUE SOX -- June 7 @ 7:35 pm vs. Denton Outlaws
• Birthday party for Dinger
• Face Painting
• Balloon artists
WEATHERFORD WRANGLERS -- June 10 @ 7:05 pm vs. McKinney Marshals
• Fireworks after the game
• Face Painting
• Bounce Houses
• Prize Giveaways
• Kids run bases after the game