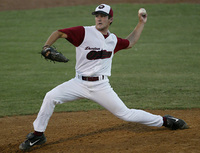 Denton 3
Weatherford 2
The Outlaws took a 1-0 lead in the Rogers Hornsby Division Series with a one-run victory before over 750 fans at the Ballpark on Bonnie Brae. Denton starter and winner Eddie Degerman issued just two hits and two runs (one earned) in seven innings with 12 strikeouts, one shy of the TCL single game record.
Denton took a 2-0 lead in the bottom of the first inning on Kyle Jones' two-run homer off loser Bobby Bell. Weatherford cut the deficit to 2-1 in the fifth on Travis Reagan's homer and tied the contest in the seventh when Reagan doubled and scored from second on Degerman's throwing error.
The Outlaws then produced the go-ahead run in the bottom of that inning as Dennis Guinn's rbi single scored Andrew Brown. Jordon Street blanked the Wranglers for the finbal two innings for the save.
Bell went the route in the loss, allowing just three hits and three runs with seven strikeouts. Weatherford had just the two hits by Reagan as Degerman and Street combined for 14 strikeouts.
Game two is tonight at Roger Williams Ballpark in Weatherford. Denton's Corey Kluber will face Shea Hancock for the Wranglers at 7:05 p.m.
McKinney 6
Coppell 3
The Marshals won the first playoff game in their history at Copperhead Field in Coppell. Down 3-1 after three innings, McKinney tied the game at 3-3 in the sixth, scored the go-ahead run in the eighth and added two insurance runs in the ninth. The Marshals droppped two straight to the Copperheads in the Speaker Division a year ago.
Hunter Moody issued three runs and five hits in seven innings to earn the win. Bryce Cox allowed just one hit and fanned three in the final two innings for his eighth save of the summer. Coppell starter Jacob Ramos permitted seven hits and three runs in his six innings. Chad Rhoades took the loss in relief, issuing three runs and three hits.
Second baseman Matt Cavagnaro had a pair of doubles and two rbi for the Marshals who also received a pair of rbi from shortstop Jose Salazar. First baseman Logan Parker had two hits, including a triple, and scored twice.
The Copperheads were held to just six hits with first baseman Adam Moore going 2-4 with two rbi.
The Marshals can win the series at home on Tuesday night in a 7:35 p.m. start at Gabe Nesbitt Field in McKinney. Aaron Brown will start for Coppell with Austin Creps on the mound for McKinney.
All tickets for Tuesday's game at priced at $1.00.